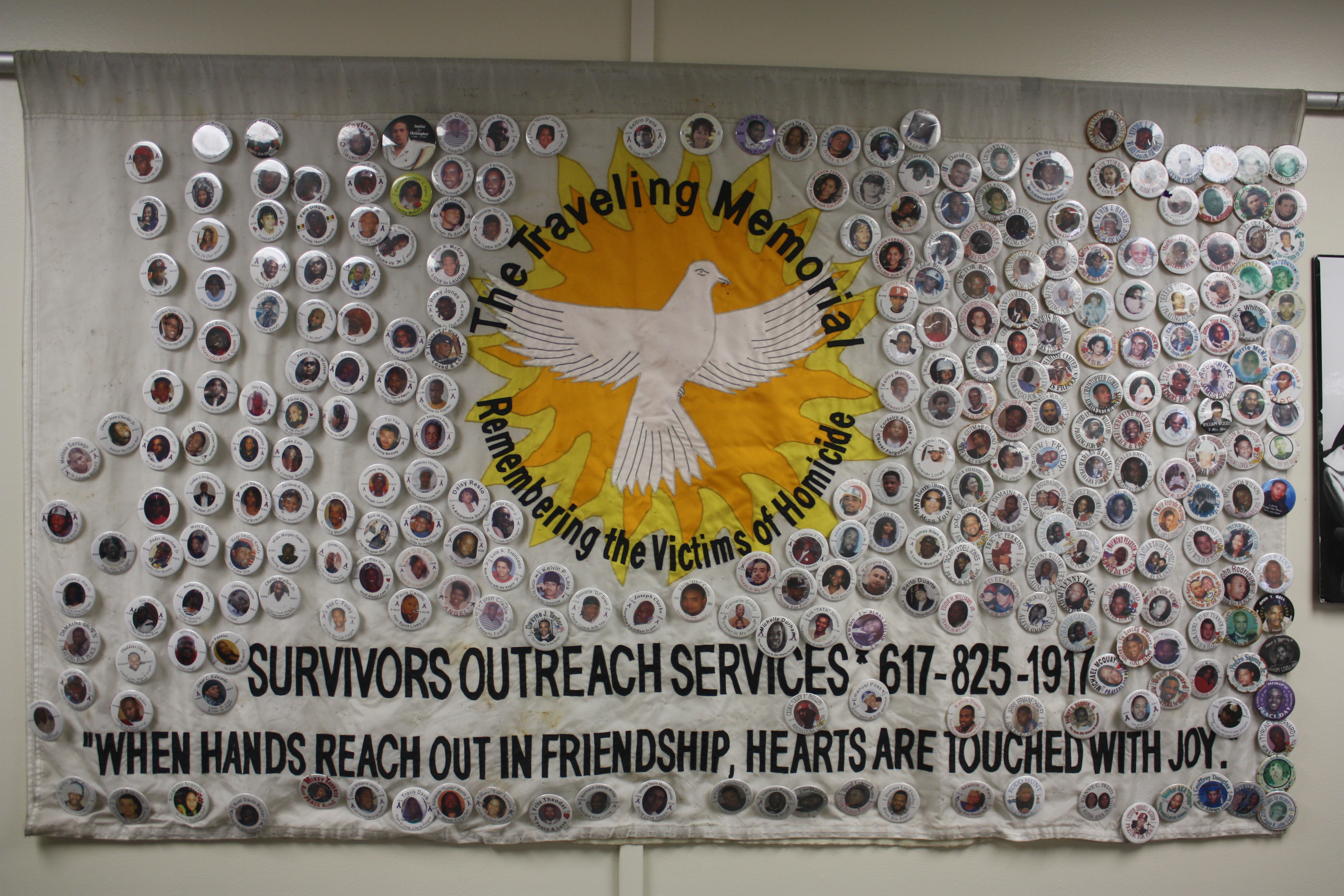 Traveling Memorial Button Project
Those of us who are survivors of homicide victims often cling to simple memories to fill the emptiness that is left.  Some of us create memorials as rituals to help us remember and celebrate all that was special and unique about our loved ones. 
Our tragedies are stories of pain inflicted by human cruelty. Our stories carry lessons of compassion and peace; lessons that we must teach our neighbors in order to prevent other suffering. 
As survivors of homicide victims we have a unique understanding of the impact violence has on individuals, families, friends and communities.  We must use this painful understanding to provide leadership to our society in its quest to find true and lasting peace.  
 
The Traveling Memorial Button Project is a tool with which we further our outreach and peace education.  We teach by sharing our pain with others.  We teach by keeping the memory of our loved ones alive. We teach by practicing the gift of love, unity, faith, hope, courage, justice and forgiveness.
 
HISTORY OF THE TRAVELING MEMORIAL BUTTON PROJECT:
The Memorial Button Project was created in 1994, four months after the shooting death of Louis D. Brown, as a tribute to all homicide victims.  It is a painful but beautiful memorial to our loved ones. It is also a powerful statement about the human cost of violence in our society. 
The memorial offers help, hope and healing, and it cries out silently for truth, justice, restoration and reconciliation. It is made up of 2¼-inch buttons with the names and photos of homicide victims. 
 
VIEWING THE MEMORIAL:
The Memorial travels across the country to conferences, community events, church services and school forums.   At each event where the memorial is displayed someone always recognizes a face or a name.
 
DISPLAYING THE MEMORIAL:
You can make arrangements to pick up the memorial at the Peace Institute.
You must ensure that the memorial is returned to the Peace Institute the day after your event.
The memorial must be displayed publicly.
There is no cost for viewing the memorial
You must ensure that no one takes the buttons.
 
ADDING TO THE MEMORIAL:
There is no cost to add your loved ones name to the Traveling Memorial Button Project.
Select a photo of your loved one.
Complete the registration form.
Sign and mail the registration form.
Include your photo with the form.